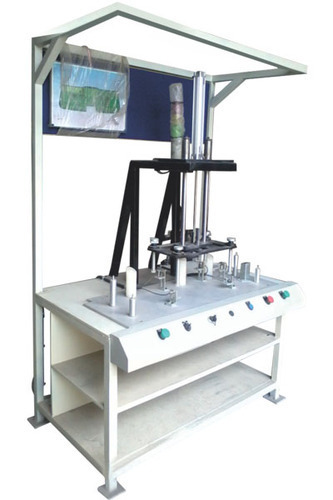 Product Description
Pokayok Machine is considered to be one of the most important industrial installations that are required for preventing simple human errors at workplaces. It is installed in automotive & electrical industries for ensuring high work precision and great end product quality. This machine is operated electrically and requires power supply of 220 volts. It is made having strong metal structure with paint coated surface to provide protection against corrosion. Pokayok Machine is also provided with racks for placing utilities so as to assure quick access whenever required. It can be availed in client-specific configurations at reasonable rates by our trusted customers.

Shiv Technology is the Perfect Solution for every Application.We manufacturing all type of Assembly Workstations,Metrial Handling trolley,FIFO Storage Rack,Material Handling conveyors,Machine Fencing guard,Aluminium Workstation,etc.Our Speciality is we also provide Special Purpose Machine,Assembly Line Automation,Conveyor & Automation,& Material Handling Automation.
Special Purpose Machines (SPM) are those Machine which are not Available Off the Shelf. These are not Covered in Standard Manufacturing Programs. There Fore they have to be Designed & Tailor Made as Per the Customers Specific Requirements. They are also Called as Bespoke Machines.


Product Details:
| | |
| --- | --- |
| Minimum Order Quantity | 1 Unit |
| Voltage | 220,V |
| Usage/Application | Automotive,&,Autoancliry,,Industries |
| Length | As,Per,Customer,Required |
| Brand | Shiv,Technology |